Every foot is unique and special! Some feet have a narrow shape others turn a very wide. Also the tension and the instep (foot side) decide on the foot form. The matching ladies' shoe should support this form.
Certain brands are suitable for certain types of foot, as they use different slats that determine the shape of the shoes. Some brands have specialized in narrow or wide fits. Think however has different bars. In this case, the different sidings offer help.It should fit all shoes from the series. In every season, we have matching shoes for every type of foot
Women's Shoes For Narrow Feet
Many people have narrow feet and slip in most shoes back and forth. In this case, the shoes should be cut according to the feetenough support to offer. Here, summer boots from Deerberg as well as shoes from Arche, art or Softwaves are suitable.
Matching Shoes For Wide Feet
Do you tend to have broad feet? Then, above all, branded shoes from Duckfeet, Brako or Martin Natur. Above all in the front area, shoes should give enough space for wide feet. Shoes made of leather are particularly suitable. This may be a little stiff at first, but it fits tightly into place.
Women's Shoes For Normal Fit
Most have a normal foot shape and can choose a wide range of shoes. However, brands for particularly narrow or wide feet are not suitable here.
Shoes For High Tension Or Instep
If you have feet with a high tension or instep, you can orient yourself less to a brand. The main focus here is on the type of shoes. This is shown in our overview. Because the shoes should be very flexible and offer plenty of room. It is best to use shoes for lacing, which can be individually adjusted to the tension. In this case, solid shoes that offer little flexibility like boots with a zipper are unsuitable. The compromise is, for example, boots with a lacing.
Which shoe really offers the ideal fit, ultimately only shows the experience. In addition, feet change in the course of life. Maybe you need to choose a number size. The data in our overview are guideline values ​​and give a rough orientation.
Foot Shapes And The Matching Shoes In The Overview
foot shape
Then fit:
Then do not fit:
Instep or instep (high side)
  Individually adjustable shoes

Shoes to lace

Pumps or ballerina with free stretch

Elastic slippers

Slip-on shoes with elastic buckles

  Unflexible shoes

Closed boots or ankle boots

Shoes with zipper

Tight mules

Wide feet
 Flexible adjustable shoes

lace-up shoes

Shoes with wide fit

Brands :

Duckfeet
Brako
Martin Nature
Kara and Klara von Deerberg
Think-molding "Julia"

  Narrow / pointed shapes

Non-adjustable shoes

Narrow feet
 Lace shoes

lace-up shoes

slipper

sandals

buckled shoes

With elastic band

Brands :

Summer boots from Deerberg
Arche
Art
Softwaves
Loints of Holland

  Wide, beefy shapes

Wide cut shoes
Gallery
Nautilus Shoes: Women's Black Steel Toe N1687 ESD Work …
Source: justfootwearshop.com
Why Your Feet Hurt
Source: www.pinterest.com
Different Types of Sneakers For You
Source: www.styleswardrobe.com
Different Types of Sneakers For You
Source: www.styleswardrobe.com
Women's Running Shirt, Double-Layer, Purple-Pink
Source: www.brandsforless.ae
Tennis shoes for women and men from Do It Tennis.
Source: www.doittennis.com
Justin Boots WK4961 Steel Toe Waterproof EH Wyoming Cowboy …
Source: dshoesshop.biz
Amazon.co.uk: John Galliano
Source: www.amazon.co.uk
[Galleria] Take The Day Off Makeup Remover
Source: kstylick.blogspot.com
Mr. US President Wig II with Devil Horns, Blonde Adult HM …
Source: www.amazon.ca
Three Dots Fold-Over Skirt at 6pm
Source: www.6pm.com
Taana Baana Spring 2014 Collection Blossom Me Beautiful …
Source: newfashionelle.com
Three Wishes Clothing Boutique
Source: www.threewishesclothing.com
Latest Bra and Nikar Collection for Women …
Source: wonderfulfashions.com
25 creative Women Shoes Names – playzoa.com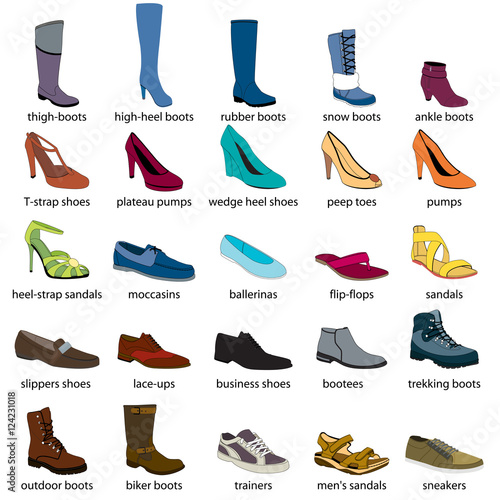 Source: playzoa.com
Top 37 British-made Shoe Brands (Updated) Womens, Mens …
Source: makeitbritish.co.uk
formal and casual wear
Source: thingsinindia.in
Find the right shoes for your leg shape
Source: www.potentash.com
The Most Expensive Women Shoe Brands in the World
Source: www.indiamarks.com
10 Most Comfortable Womens Shoe Brands
Source: easypetitelooks.com